CASE REPORT
---
A 14-year-old Malay boy presented to OPD with the left blurring of vision for 9 months with a history of blunt trauma to his left eye prior to the blurring of vision and presented to an ophthalmologist 2 months later.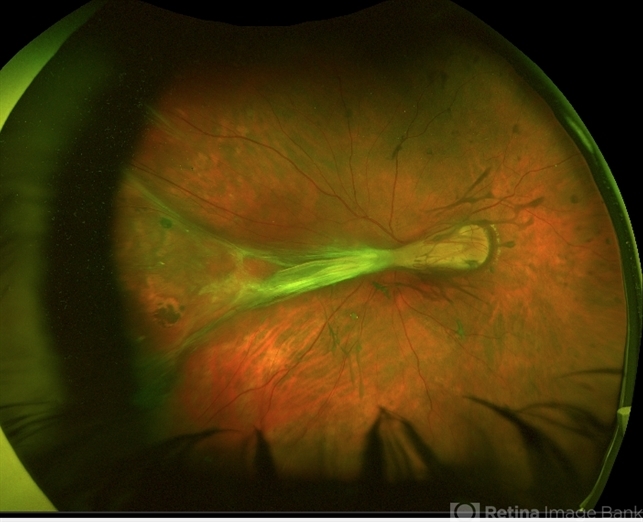 He was then referred to vitreoretinal (VR) service, but he only came 6 months later. He was a known case of high myopia in both eyes with a refractive error of −9D, and started wearing glasses at the age of 10 years.
On examination, his right vision was best corrected to 6/18 with a refraction of −9.00/−1.00×10° with a near vision of N6. The left vision was hand movement.
Dilated fundal examination of the left eye showed total retinal detachment, vitreous hemorrhage, and PVR grade C with a broken temporal to the macula. His right fundus showed peripheral ghost vessels at the temporal region with subtle macular dragging and straightening of vessels.
He was screened for a uveitic cause to the peripheral ghost vessels which was negative (erythrocyte sedimentation rate, full blood count, C3/C4, C reactive protein, rheumatoid factor, antinuclear antibody, venereal disease research laboratory, Mantoux test, chest x-ray).
Fundus fluorescein angiogram (FFA) revealed a diagnosis of Familial Exudative Vitreoretinopathy (FEVR).
Familial Exudative Vitreoretinopathy (FEVR) disease entity
---
Familial Exudative Vitreoretinopathy (FEVR) defines a group of inherited retinal diseases characterized by abnormal retinal angiogenesis leading to incomplete vascularization of the peripheral retina with subsequent retinal ischemia.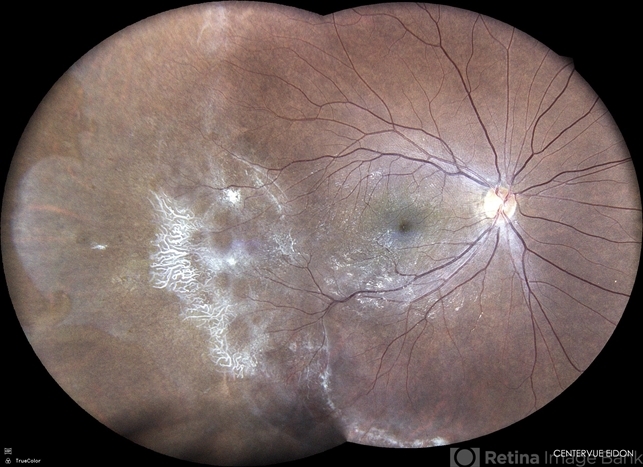 As seen in retinopathy of prematurity (ROP), it is believed the avascular retina in Familial Exudative Vitreoretinopathy (FEVR) may lead to hypoxia and stimulation of neovascular growth into the vitreous leading to later vitreoretinal traction, subretinal exudation and hemorrhages, retinal folds, tractional retinal detachment, and foveal displacement.
FEVR is also associated with increased permeability of vessels and can present with exudative retinal detachment. Familial exudative vitreoretinopathy is a genetically heterogeneous disorder that exhibits variable penetrance across patients.
The clinical appearance of FEVR tends to be asymmetric and varies significantly even among affected members of the same family. Patients with mild disease may be asymptomatic while those with severe disease can present with severe vision loss.
The disease can be inherited in an autosomal dominant, autosomal recessive, or X-linked recessive fashion. Thus far, mutations in about 11 genes have been associated with FEVR.
However, all known pathogenic variants of these genes accounted for about 50% of all FEVR cases worldwide.
Familial Exudative Vitreoretinopathy (FEVR) MANAGEMENT
---
Familial Exudative Vitreoretinopathy (FEVR) management depends on the clinical stage of the disease. Due to the vision-threatening sequelae of neovascularization, an early diagnosis and treatment can be vision-preserving.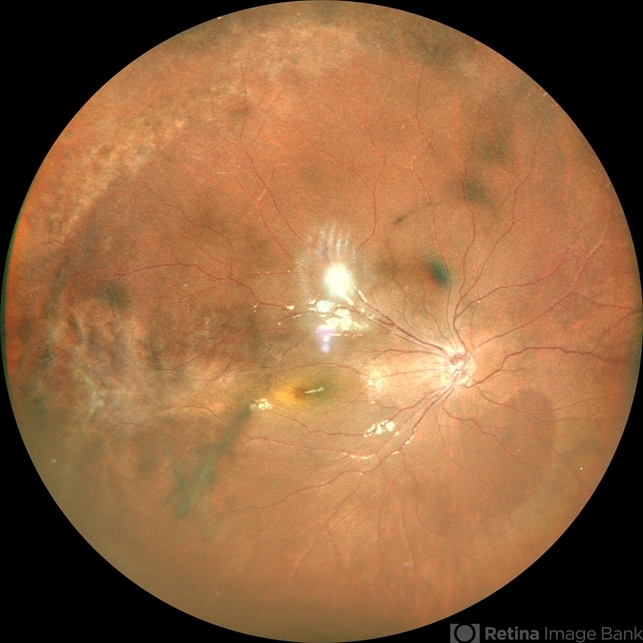 One study showed that 58% of asymptomatic family members had clinical and angiographic evidence of Stage 1 and 2 FEVR. Therefore, screening of family members of patients with FEVR is recommended.
Due to the association with osteoporosis-pseudo glioma syndrome caused by the LRP5 mutation, all FEVR patients who do have access to genetic testing should have a DEXA scan to assess bone mineral density. If positive for osteoporosis, then the patient should be referred to experts for consideration of bisphosphonate therapy.
Patients with Stage 1 disease can be observed and followed over time. For stage 2 disease, laser photocoagulation of the avascular zones is recommended to promote regression of neovascularization and resolution of exudation. Patients with more advanced diseases with retinal detachments require surgical management.
Scleral buckling and/or vitrectomy can be considered depending on the clinical scenario with laser photocoagulation of the peripheral avascular retina. Patients with Stage 3A or partial exudative retinal detachments have been reported to have favorable outcomes with scleral buckling alone.
Few studies have evaluated the use of anti-VEGF in the treatment of FEVR. One case report of a patient with FEVR with neovascularization showed regression after one injection of bevacizumab with short-term follow-up. In a larger study, intravitreal bevacizumab (IVB) was used as an adjunct therapy to either laser or surgical management.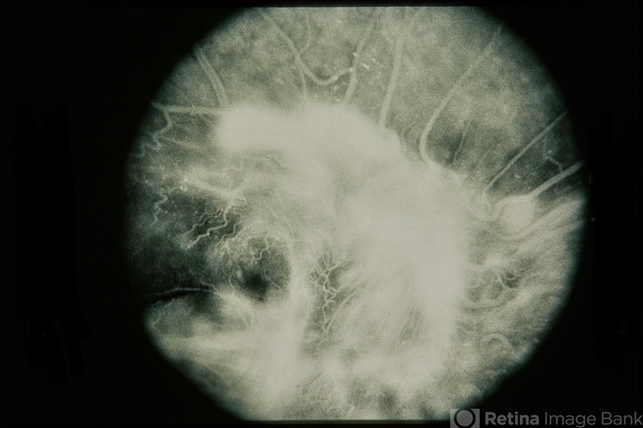 Rapid progression of tractional retinal detachment occurred in  3 eyes of patients with stage 3B FEVR who were treated with IVB as an adjunct to surgery with scleral buckling and indirect diode laser (2 eyes) or vitrectomy with membrane peeling and endo laser.
In contrast, all 7 eyes with stage 2 or 3A FEVR in the same series achieved stabilization of disease with laser and IVB alone and did not develop progressive tractional retinal detachment. The utility of anti-VEGF therapy in the management of FEVR still remains unclear.
Would you have interest in taking retinal images with your smartphone?
Fundus photography is superior to fundus analysis as it enables intraocular pathologies to be photo-captured and encrypted information to be shared with colleagues and patients.
Recent technologies allow smartphone-based attachments and integrated lens adaptors to transform the smartphone into a portable fundus camera and Retinal imaging by smartphone.
RETINAL IMAGING BY YOUR SMARTPHONE
REFERENCES
---
 Criswick V, Schepens C. Familial Exudative Vitreoretinopathy. American Journal of Ophthalmology. 1969;68(4):578-594.
 Gow J, Oliver GL. Familial exudative vitreoretinopathy. An expanded view. Arch Ophthalmol. 1971;86(2):150-5. 
 Canny CLB, Oliver GL. Fluorescein Angiographic Findings in Familial Exudative Vitreoretinopathy. Archives of Ophthalmology. 1976;94(7):1114-1120. 
 Li Y, Fuhrmann C, Schwinger E, Gal A, Laqua H. The gene for autosomal dominant familial exudative vitreoretinopathy (Criswick-Schepens) on the long arm of chromosome 11. Am J Ophthalmol. 1992;113(6):712-3. 
 Li Y, Müller B, Fuhrmann C, et al. The autosomal dominant familial exudative vitreoretinopathy locus maps on 11q and is closely linked to D11S533. Am J Hum Genet. 1992;51(4):749–54
 Robitaille J, MacDonald ML, Kaykas A, et al. Mutant frizzled-4 disrupts retinal angiogenesis in familial exudative vitreoretinopathy. Nat Genet. 2002;32(2):326–30.