CASE REPORT
---
A 62-year-old Asian female with a medical history of hypertension presented with a gradual vision loss complaint in the left eye over the past six months, describing it as distorted vision accompanied by occasional flashes of light.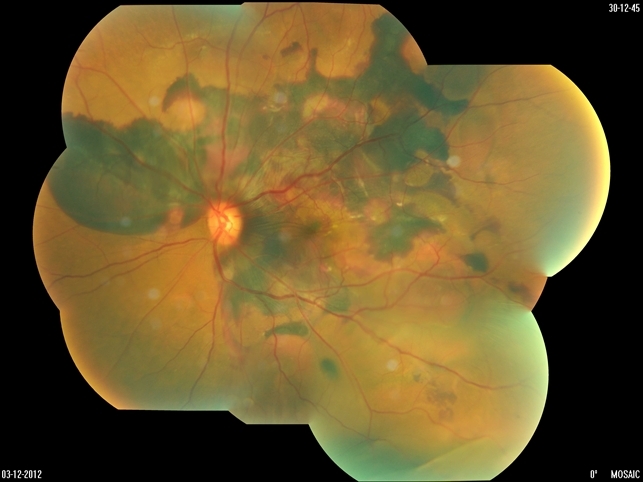 Clinical examination revealed a best-corrected visual acuity (BCVA) of 20/25 in the right eye and 20/100 in the left eye, with fundus examination showing a normal macula in the right eye but serous macular detachment with subretinal hemorrhage in the left eye.
Optical coherence tomography (OCT) confirmed the presence of subretinal fluid and pigment epithelial detachment, leading to a diagnosis of Polypoidal Choroidal Vasculopathy (PCV) with unilateral involvement in the left eye, as no polypoidal lesions or other abnormalities were observed in the right eye.
DISEASE
---
Polypoidal choroidal vasculopathy (PCV) is a disease of the choroidal vasculature. It is present in both men and women of many ethnicities, characterized by serosanguineous detachments of the pigmented epithelium and exudative changes that can commonly lead to subretinal fibrosis.
Evidence supports that symptomatic patients with PCV can have complete regression without severe vision loss with photodynamic therapy (PDT) and anti-VEGF treatment.
The disease process known now as polypoidal choroidal vasculopathy (PCV) was described by Dr. L Yannuzzi during a presentation of cases at the American Academy of Ophthalmology in 1982. He described patients with subretinal, vascular lesions associated with serous and hemorrhagic detachments of the retinal pigment epithelium (RPE).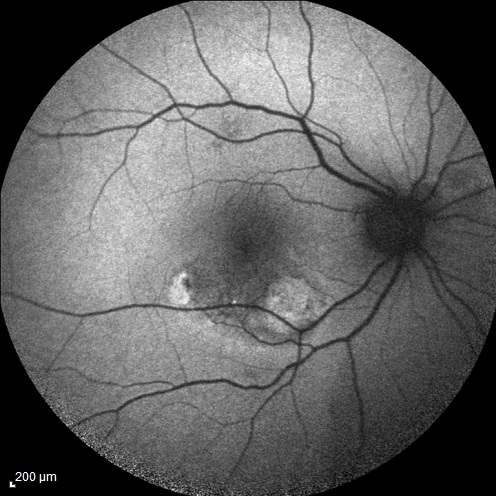 The name reflects the appearance of a network of branching choroidal vessels with terminal, polyp-like aneurysmal dilations.
PCV is described as a disease present in middle-aged black women, but it has been established that it can occur in both sexes and is most commonly diagnosed in patients between the ages of 50 and 65 years.
In many Asian countries, researchers have estimated the prevalence of PCV among their population; in Japan, higher prevalence rates are present at approximately 23% to 54% in patients with presumed age-related macular degeneration (AMD).
Prevalence rates of between 4% and 9.8% have been reported in Caucasian patients with presumed AMD. A thorough history and dilated fundus exam are the first steps in diagnosis.
On fundus examinations, one can see orange-reddish bulb-like lesions budding from the choroid into the subretinal space. These lesions can be associated with recurrent and significant hemorrhagic and exudative detachments of the retina and retinal pigment epithelium (RPE).
Hard exudates are also common. On occasions, patients may present with breakthrough vitreous hemorrhage.
MANAGEMENT
---
Several studies have evaluated treatment for PCV. Treatment includes observation, photodynamic therapy, intravitreal injection of anti-VEGF therapy, or combination therapy.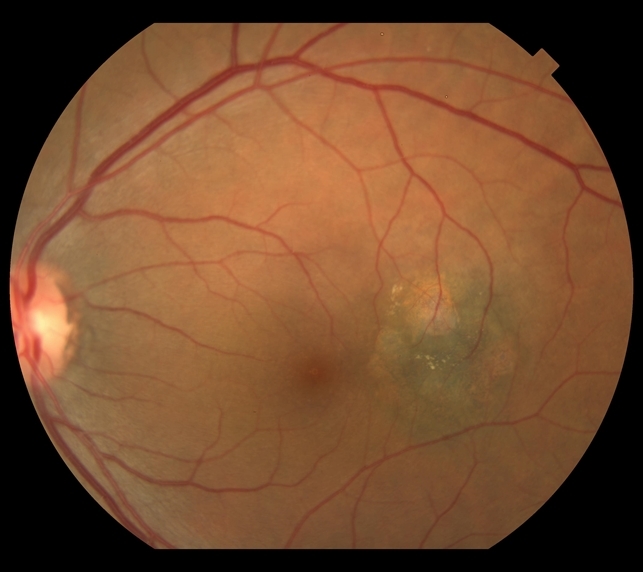 The EVEREST trial is a multi-center, double-masked trial compared three treatment regimens: verteporfin photodynamic therapy (PDT) plus the anti-VEGF agent ranibizumab (Lucentis), ranibizumab monotherapy, and PDT monotherapy.
The patient population was sixty-one Asian patients with symptomatic PCV. The primary endpoint was complete polyp regression as assessed by ICG. PDT in combination with ranibizumab and PDT monotherapy showed a significantly higher proportion of patients with complete polyp regression at month 6 than the ranibizumab monotherapy group.
Laser therapy to the polyp and BVN occupying a small area away from the fovea may be considered. A LAPTOP study from Japan showed that ranibizumab resulted in visual gain from baseline at 24 months, the PDT group did not gain vision.
PLANET study– at 12 months aflibercept monotherapy was non-inferior to aflibercept+PDT in the visual outcome. EPIC study– at 6 months aflibercept monotherapy stabilized vision and resulted in the resolution of hemorrhagic and exudative complications regression of polyps in around 70% of patients.
Medical follow-up:
Regardless of the choice of treatment, patients should be followed at regular intervals to detect and prevent subretinal/subRPE fluid and hemorrhage.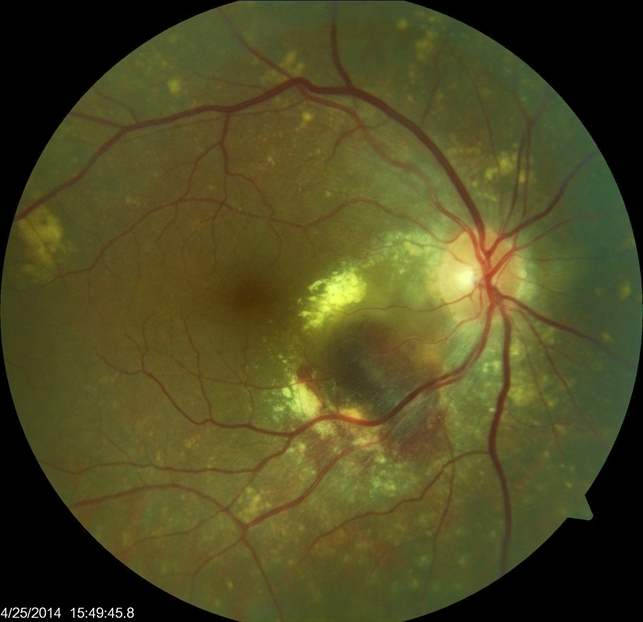 Surgery
There is no current surgical management for PCV. If surgical management is needed, it would be tailored to complications and sequelae of PCV such as break-through vitreous hemorrhage.
Would you have interest in taking retina images by smartphone?
Fundus photography is superior to fundus analysis as it enables intraocular pathologies to be photo-captured and encrypted information to be shared with colleagues and patients.
Recent technologies allow smartphone-based attachments and integrated lens adaptors to transform the smartphone into a portable fundus camera and Retinal imaging by smartphone.
RETINAL IMAGING BY YOUR SMARTPHONE
REFERENCES
---
 

Yannuzzi LA. Idiopathic Polypoidal Choroidal Vasculopathy. Presented at: Macula Society Meeting, February 5, 1982, Miami, FL, USA.

 

Yannuzzi LA, Sorenson J, Spaide RF, Lipson B. Idiopathic polypoidal choroidal vasculopathy (IPCV). Retina 1990; 10:1–8.

 

Stern RM, Zakov ZN, Zegarra H, Gutman FA. Multiple recurrent serosanguineous retinal pigment epithelial detachments in black women. Am J Ophthalmol 1985; 100:560–569.

 

Imanmura Y et al. Polypoidal Choroidal Vasculopathy: A Review. Surv Ophthalmol 2010; 55:501–515.

 

Maruko I, Iida T, Saito M, et al. Clinical characteristics of exudative age-related macular degeneration in Japanese patients. Am J Ophthalmol 2007; 144:15–22.

 

Yannuzzi LA, Ciardella A, Spaide RF, et al. The expanding clinical spectrum of idiopathic polypoidal choroidal vasculopathy. Arch Ophthalmol 1997; 115:478–485.