CASE REPORT
---
A 45-year-old male with a history of myopia and a gradual decline in right eye visual acuity over six months presented with complaints of distorted vision and central visual field defects.

Ophthalmic examination revealed a right eye visual acuity of 20/200, while the left eye had normal vision (20/20). Further evaluation indicated a dome-shaped macula in the right eye with localized subretinal fluid, pigmentary changes, and drusen, whereas the left eye showed no abnormalities.
Optical Coherence Tomography confirmed the dome-shaped macula in the right eye, and Fluorescein Angiography ruled out significant leakage or neovascularization, ultimately leading to the diagnosis of "Dome-Shaped Macula" in the right eye.
Dome-Shaped Macula (DSM) DISEASE entity
---
A dome-shaped macula (DSM) is characterized by a convex anterior protrusion (bowing towards the vitreous cavity) of the macula associated with high myopia and a posterior staphyloma.
Dome-Shaped Macula (DSM) has been shown to occur in 10.7-12% of highly myopic eyes in hospital-based patients. The prevalence of DSM in the general population is currently unknown. However, DSM (especially unilateral) may be noted with hyperopia or emmetropia.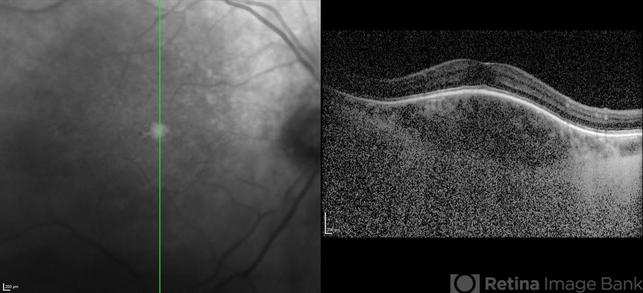 DSM is associated with high myopia, and its presence is positively correlated with the severity of myopic maculopathy. Though initially thought to only occur with high myopia, DSM has also been noted in mildly myopic and non-myopic eyes. In such cases, the ultrasonogram may show an excavation at the posterior pole.
Optical Coherence Tomography (OCT) is necessary to diagnose DSM and identify the morphological type. Because the convexity can appear in different orientations, it is important to obtain both vertical and horizontal scans or radial scanning to ensure visualization. Radial scans are preferred to diagnose DSM.
Dome-Shaped Macula (DSM) MANAGEMENT
---
General Treatment
DSM management focuses on reducing subretinal fluid (SRF), but no effective treatment for this complication has been established.
Three monthly injections of aflibercept may improve best-corrected visual acuity (BCVA) and reduce central subfield thickness on OCT, but bevacizumab and ranibizumab have proven ineffective at improving BCVA or subretinal fluid.
There are also limited reports of mineralocorticoid receptor antagonists successfully resolving serous foveal detachments. Photodynamic therapy (PDT) trials for subretinal fluid associated with DSM have conflicted over the efficacy of this treatment.
Additionally, vitrectomy may aid in the transient resolution of sub-retinal detachment in DSM patients. Due to the lack of a proven treatment, many physicians elect to observe asymptomatic or mildly symptomatic cases. Oftentimes the subretinal fluid resolves and recurs intermittently over time.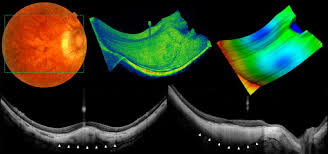 A study on 56 eyes with Dome-Shaped Macula (DSM) noted that there was no significant improvement in BCVA or complete resolution of subretinal fluid with bevacizumab, ranibizumab, or PDT; and the authors concluded that DSM 'is often associated with chronic SRF, for which no effective treatment is currently available.
Complications
---
The most frequent complication of DSM is subretinal fluid, which may predispose to foveal serous retinal detachment (SRD).
The prevalence of SRD in DSM has been shown to vary widely, occurring in 2% to 67% of patients with DSM. The cause of SRD in this context is a topic of debate. It is possible that scleral thickening under the dome obstructs choroidal fluid outflow, leading to a fluid collection.
Others have found that in eyes with DSM and SRD, the submacular choroid is abnormally thick for the amount of myopia, pointing to a mechanism similar to central serous chorioretinopathy.
The abrupt change in choroidal thickness in eyes with DSM may lead to retinal pigment epithelium dysfunction and SRD. SRF in DSM has also been shown to be associated with higher macula dome height, a lower degree of myopia, and vertically oriented oval-shaped domes.
Besides structural factors, alterations in the mineralocorticoid pathway could also be involved. Studies conflict over whether subretinal fluid actually results in a decrease in BCVA.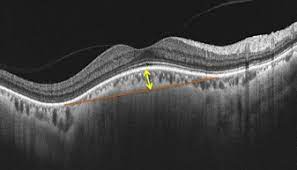 Other complications of DSM include macular retinal atrophy, lamellar and full-thickness macular holes, extrafoveal schisis, and epiretinal membranes.
Choroidal neovascularization may occur in DSM, but Zhao et. al did not find this complication more likely in DSM compared to high myopes without DSM. Choroidal neovascularization (CNV) may not be a result of DSM but is associated with myopia itself.
CNV may be more common in DSM patients with older age and higher axial length. DSM with pigment epithelial detachment may have a higher bulge height and thicker central sclera.
On the other hand, some suggest that DSM may actually act as a protective factor against foveal schisis, macular holes, and choroidal neovascularization.
DSM may also prevent vision-threatening macular complications after cataract surgery in highly myopic eyes.
Would you have interest in taking retinal images with your smartphone?
Fundus photography is superior to fundus analysis as it enables intraocular pathologies to be photo-captured and encrypted information to be shared with colleagues and patients.
Recent technologies allow smartphone-based attachments and integrated lens adaptors to transform the smartphone into a portable fundus camera and Retinal imaging by smartphone.
RETINAL IMAGING BY YOUR SMARTPHONE
REFERENCES
---
 Gaucher D, Erginay A, Lecleire-Collet A, et al. Dome-shaped macula in eyes with myopic posterior staphyloma. Am J Ophthalmol. 2008;145(5):909-914.    
 Chebil A, Ben Achour B, Chaker N, Jedidi L, Mghaieth F, El Matri L. [Choroidal thickness assessment with SD-OCT in high myopia with dome-shaped macula]. J Fr Ophtalmol. 2014;37(3):237-241.    
 Zhao X, Ding X, Lyu C, et al. Observational study of clinical characteristics of dome-shaped macula in Chinese Han with high myopia at Zhongshan Ophthalmic Centre. BMJ Open. 2018;8(12):e021887.    
 Naresh Babu Kannan, Sagnik Sen, Prithviraj Udaya, Obuli Ramachandran, Kim Ramasamy, "Spectral-Domain Optical Coherence Tomography-Based Morphofunctional Characterization of Dome-Shaped Maculopathy in Indian Population", Journal of Ophthalmology, vol. 2020, Article ID 8869455, 7 pages, 2020. https://doi.org/10.1155/2020/8869455

 

Errera M-H, Michaelides M, Keane PA, et al. The extended clinical phenotype of dome-shaped macula. Graefes Arch Clin Exp Ophthalmol. 2014;252(3):499-508.