CASE REPORT
---
A 40-year-old female reported to the Department of Ophthalmology, with complaints of defective vision for the past 4 years for which she was using spectacles. She also complained of swelling in the lower palpebral conjunctiva, which she had noted for the past 2 years.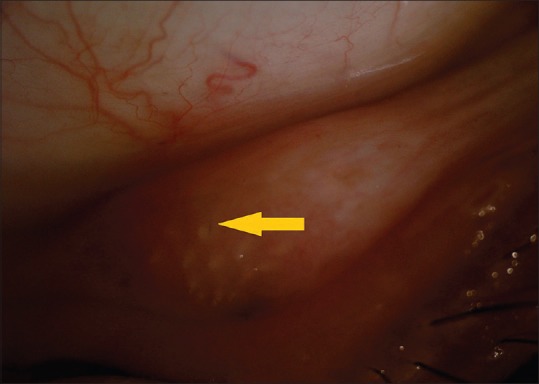 She did not report any history of foreign body sensation, redness, pain, or watering. She did not recall any contact or injury with an insect.
On examination, her best-corrected visual acuity was 6/6, J1 in both eyes. The left eye was normal. Anterior segment evaluation of the right eye revealed a quiet eye with no signs of congestion or inflammation. A 10 mm × 10 mm size nodule was seen in the lower palpebral conjunctiva of the right eye with embedded caterpillar hairs.
All visible caterpillar hairs were removed from the lesion, and topical steroids were prescribed. However, new hair continued to appear, causing irritation.
An excision biopsy of the granuloma was performed, and the patient's symptoms were relieved. Histopathology revealed focal ulceration and secondary histiocytic reaction around linear refractile foreign bodies. No hair follicles were noted. The patient was diagnosed with Ophthalmia Nodosa.
Ophthalmia nodosa DISEASE entity
---
Ophthalmia nodosa is an ocular inflammatory condition precipitated by the embedment and migration of insect hairs, usually caterpillar setae and seldom tarantula hairs, or vegetable material, into various ocular tissues.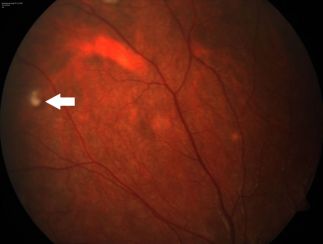 Its name derives from the characteristic nodular immunological response that occurs within the conjunctiva, as a reaction to either the mechanical effect and the penetration of the setae or their direct toxic effect.
The disease spectrum of ocular pathology is associated with the site and location of the caterpillar hairs, which have a specific property of migrating deep into the tissue with time and causing low-grade chronic inflammation due to releasing of the toxin thaumetopoein.
Following the entry of the caterpillar setae into the eye, a variety of diverse ocular lesions can develop, as ocular involvement may occur in the form of catarrhal conjunctivitis, conjunctival nodules, keratoconjunctivitis, keratitis, iris nodules, uveitis, focal cataract, endophthalmitis, vitritis, papillitis, and chorioretinopathy.
Ophthalmia nodosa with vitreoretinal involvement due to intraocular penetration of the hairs is rare, but with potentially disastrous complications, such as permanent vision loss due to persistent inflammation of the eye. Rarely, the damage is severe enough to require enucleation.
Therefore, careful removal of all the cilia is essential in order to prevent delayed complications like the migration of these cilia in the posterior segment.
A classification of ocular inflammatory reactions caused by the presence of caterpillar setae and released urticating toxins was developed for Ophthalmia nodosa by Cadera et al.
Type 1: Acute anaphylactoid toxic reaction to insect hair, which immediately begins with a duration course of a few days, mainly causing chemosis and inflammation.
Type 2: Chronic mechanical keratoconjunctivitis caused by a hair found in the bulbar or palpebral conjunctiva with foreign body sensation and linear corneal abrasions
Type 3: Formation of grayish-yellow conjunctival granulomas due to subconjunctival or intracorneal setae; patients may remain asymptomatic
Type 4: Iritis secondary to hair penetration into the anterior segment, which may become severe with iris nodule formation and hypopyon
Type 5: Early or late vitreoretinal involvement due to penetration of the hair through the cornea, iris, and lens or via the transscleral route; vitritis, cystoid macular edema, papillitis, or endophthalmitis may occur.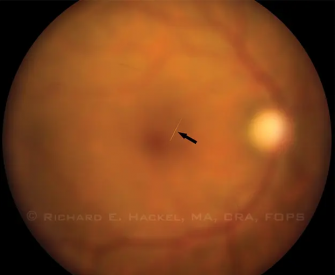 Ophthalmia nodosa MANAGEMENT 
---
General treatment
The treatment approach for ophthalmia nodosa depends on the type of the disease. Type I to type III varieties generally respond well to the removal of the hair and standard topical medications, whereas type IV to V may require more invasive interventions.
Medical therapy
Type I: Treatment options for the acute anaphylactoid toxic reaction to insect hair include copious irrigation with the saline solution, followed by the administration of topical antibiotics and steroids.
Type 2: The treatment approach is similar to that of Type I, with the addition of removal of all insect setae with the use of forceps, including lid eversion.
Medical follow up
Patients with retained intracorneal hairs should be counseled regarding the risk of intraocular penetration and closely followed up for at least six months.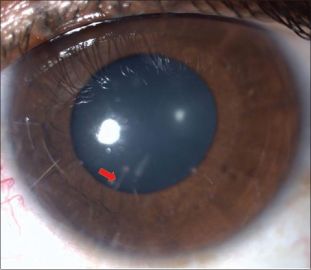 Surgery
Type 3: removal of conjunctival nodules (to prevent migration to the cornea and subsequently other intraocular structures)
Type 4: topical steroids for keratitis and anterior uveitis; removal of hairs with forceps, iridectomy, and even lensectomy; Nd: YAG laser to disrupt hairs
Type 5: oral, periocular, or intraocular steroids for inflammatory control (but other infections must be ruled out before ocular injections); Nd: YAG laser to disrupt hairs; vitrectomy for resistant cases.
Would you have interest in taking retina images by smartphone?
Fundus photography is superior to fundus analysis as it enables intraocular pathologies to be photo-captured and encrypted information to be shared with colleagues and patients.
Recent technologies allow smartphone-based attachments and integrated lens adaptors to transform the smartphone into a portable fundus camera and Retinal imaging by smartphone.
RETINAL IMAGING BY YOUR SMARTPHONE
REFERENCES
---
 Prasad SC, Korah S. Rare Presentation of Ophthalmia Nodosa. Middle East Afr J Ophthalmol. 2015;22(4):520-521. doi:10.4103/0974-9233.164627
 

Doshi, P. Y., Usgaonkar, U., & Kamat, P. (2016). A Hairy Affair: Ophthalmia nodosa Due to Caterpillar Hairs. Ocular Immunology and Inflammation, 26(1), 136–141. doi:10.1080/09273948.2016.1199708

 Watson, P G, and D Sevel. "Ophthalmia nodosa." The British journal of ophthalmology vol. 50,4 (1966): 209-17. doi:10.1136/bjo.50.4.209
 

Sahay P, Bari A, Maharana PK, Titiyal JS. Missed caterpillar cilia in the eye: cause for ongoing ocular inflammation. BMJ Case Rep. 2019;12(4):e230275. Published 2019 Apr 15. doi:10.1136/bcr-2019-230275

 

Agarwal, Manisha; Acharya, Manisha C1; Majumdar, Shahana2; Paul, Lagan1 Managing multiple caterpillar hair in the eye, Indian Journal of Ophthalmology: March 2017 – Volume 65 – Issue 3 – p 248-250 doi: 10.4103/ijo.IJO_985_15

 

Sridhar, M., Ramakrishnan, M. Ocular lesions caused by caterpillar hairs. Eye 18, 540–543 (2004). https://doi.org/10.1038/sj.eye.6700692

 

Sengupta, Sabyasachi; Reddy, Padmati Ravindranath; Gyatsho, Jamyang; Ravindran, Ravilla D; Thiruvengadakrishnan, ; Vaidee, Vikram Risk factors for intraocular penetration of caterpillar hair in Ophthalmia Nodosa, Indian Journal of Ophthalmology: Nov–Dec 2010 – Volume 58 – Issue 6 – p 540-543 doi: 10.4103/0301-4738.71711

 

Pratik Y. Doshi MS, DNB, FICO, Ugam Usgaonkar MS & Pradnya Kamat MS, FICO (2016): A Hairy Affair: Ophthalmia nodosa Due to Caterpillar Hairs, Ocular Immunology and Inflammation, DOI: 10.1080/09273948.2016.1199708.